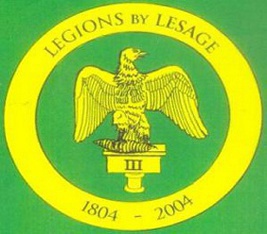 This website is still under construction. Please forgive any troubles with this site you may have. Email us if you have any questions.

•Customer Service:

•
Customer serivces is our number one priority and communication is most important between you, the customer, and Legions by Lesage. We try to answer all e-mails the day after receving your e-mail except for Saturday and Sunday.



•Purchase Policy:


•Payment is to be made through PayPal*.
•Prices are subject to change without notice. Prices changes will be listed on our website. If by chance a customer buys an item in between change we will accept the price listed in the shopping cart.

•
Internationl Customs Duties and Taxes

•Every country has different ruels and out prices plus shipping cost do not include any country's local customs duties or local taxes. Please get information on duties and taxes from your customs department. It is your responsibility to pay for any duties and taxes.


•*Why pay with PayPal?
•No need to enter credit card number and address everytime you make a purchase just log into your PayPal account, confirm payment, and you're done.
•It's safer - PayPal's fraud detection and verification techniques are among the best in the industry.
•Pay with flexibility - use your PayPal balance, bank account, credit card or debit card.


•
Refund Policy:


•Legions by Lesage stands by their products we sell or manufacture. We guarantee our products. If you are not 100% satisfied with our product(s) you must email us within 48 hours of receiving your product(s) via email giving details of the problem at legionsbylesage@centurylink.net.

•Once we have received your email we will have you return the item. We will send you a return label within 7 business days. This item must be sent back in its original packaging.

•Once we have received our product(s) back we will start the refund process. Refunds will be given by the means which we have received payment.

•We hold the right to refuse any return that is not pre-authorized.

•Please email us at legionsbylesage@centurylink.net if you have any questions regarding our products.